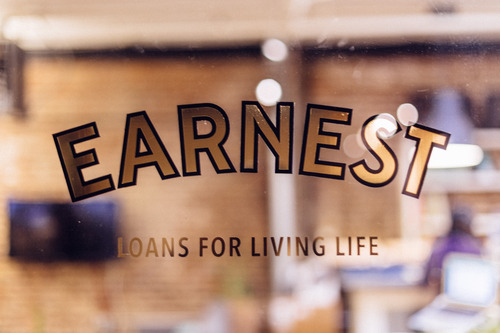 Last week I shared with you all the Ugly Truth about Student Loan Forgiveness programs and basically ended by just telling you to pay your student loans. I hated ended the post that way since I'm more of an optimist and like to see the light at the end of the tunnel. Since I was doing tons of research on student loan repayment programs Facebook felt the need to populate the ads in my feed with various bank-based student loan repayment programs. As usual I ignored the onslaught of privacy invading ads until one in particular from a company called Earnest caught my eye.
Earnest  is a technology-enabled lender that evaluates a person's full education, employment, and financial profile. What sets it apart from banks and other lenders is that it attempts to look beyond a simple credit score in order to offer financially responsible people better rates than traditional lenders, on personal loans and student loan refinancing. This is huge. Basically, Earnest is looking beyond the mistakes you made financially in the past. If you can show that you've gotten your act together then you may qualify for one of their loans. That's right no more lamenting over your horrible credit score that you earned yourself with the stupid mistakes you made as a college student. No more waiting for all those negative nancies to fall off your credit report. Earnest is operating in the present. I took some time to really look through the Earnest website to see if anything sent warning signals and trust me I looked hard, but this seems to be a great option to Student Loan Repayment.
Here are some key things about the Student Loan Refinancing option that really intrigued me about Earnest
Earnest takes several things into consideration beyond your credit score when making their decision.
Earnest offers both fixed and variable rates and allows you to switch back and forth every six months depending on which offer is better
With Earnest, you have the ability to set own payment amount as well as make changes to the amount you want to pay.
There are no origination, Prepayment, or hidden fees.
The option to skip payments! If you make 6 months of on-time payments and you will be eligible to skip a payment every 12 months. (note this does not mean you get away Scotch free, they just spread that skipped month over the rest of the payments.)
Earnest loans are considered student loans for federal and state tax consideration. That's right if eligible you can still claim the interest on your taxes
As I went through the site I became even more excited at the thought of never having to argue with someone at a call center in a country far far away ever again. I also loved the fact that you would have complete and utter control over your Student Loan Repayments.  If you want to pay extra on your student loans and have it applied to the principle well my friend you have that option! Earnest even offers a biweekly payment schedule which can go a long way to reducing interest. To be eligible for a Student Loan Refinance with Earnest you just need to meet this small list of qualifications.
You are at least 18 years old.
You are a U.S. citizen or permanent resident alien.
Your debt is from paying for a Title IV accredited school.
You graduated or will graduate at the end of this semester.
You are employed or have a written job offer.
The student loan is in your name and will remain in your name after refinancing.
You are not requesting new loans for future schooling.
You call one of these states home: AK, AR, AZ, CA, CO, CT, FL, GA, HI, IL, IN, KS, MA, MD, ME, MI, MN, MO, NC, NE, NH, NJ, NM, NY, OH, OK, OR, PA, TN, TX, UT, VA, WA, Washington D.C., WI, WV, and WY.
Since my husband and I have finally started our Student Loan Debt Snowball Attack plan I think checking into Earnest may be a great option for us. Rates start as low 1.90% variable / 3.50% fixed APR. Currently my husband and I have loans in repayment at 6.80% so getting down to something like 1.9% would definitely save us some money. If you're interested in learning more about Earnest head over to MeetEarnest.com and check out the site for yourself. They have also a very extensive FAQ page which leaves no stone unturned.