Our journey to debt-freeness isn't ending anytime soon. If we continue on our current course without increasing our income we probably have another two-three years left before we can officially call it quits. Last month I did a round of Instagram live sessions where I spoke on various topics. One of the topics had to do what things I use around our home to keep us motivated. You guys know my motto is "Write the Vision." To me, it's important to write things down because words not only give things power but because they hold you accountable. It's easy to come up with a goal in your head but you're less likely to stick to it if it's not something that in front of your face every single day. So we keep a good deal of visual aides around the house to help keep us accountable.
Debt Payoff Headquarters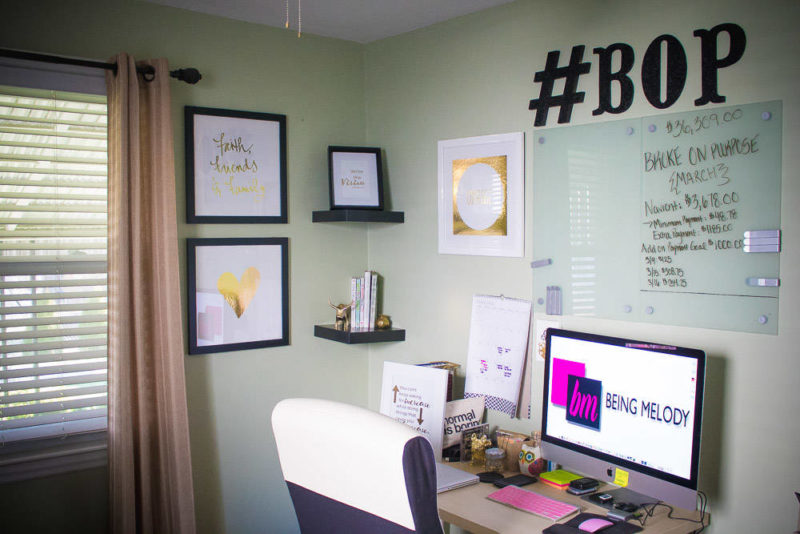 Everyone needs a command center for where they go to sit down and strategize about how they're going to tackle their debt. It could be your kitchen table, your desk, or even on the living room floor with your computer, spreadsheets, and calculator.
Our command center is in our office. I basically took over a whole wall and turned it into all things Broke on Purpose and motivation for paying off debt. On the board, I write down the total amount of debt we've paid off, and underneath that we track the remaining balance of the debt we're currently working on. In the space left over below that we track all additional payments, we've been able to make to the debt for that month. Notice I don't mention putting the overall total amount of debt we have anywhere in the room. We have over $100,000 of debt. We know that and trust me it scares the bejeezus out of me each and every time I think about it, but we don't write it down because it would mentally derail us.
To create my Broke on Purpose Command center we picked up two Kludd Message boards from Ikea for $19.99. The shelves also came from Ikea and the framed inspirational photos I found at Homegoods which was one of my favorite stores to shop at before I started living Broke on Purpose and realized that none of my trips were ever in the budget.
Debt Payoff Thermometer
Another debt payoff tracker I showed on Instagram live was our homemade Debt Payoff Thermometer. You probably have seen these used everywhere. I love seeing other people show how they're tracking with them on Instagram. We used ours in the reserve order of how we use our message boards in the command center. This month we're focused on paying off one of the loans within our Great Lakes Student Loan. That particular loan houses seven other loans of varying amounts. We're only focused on the one with the largest balance (we're doing the debt avalanche method).  It's starting balance was $19,134. To monitor how we're paying that debt off we use our Debt Payoff Thermometer and at the end of every month we color in the amount that we've paid off. This is one of my favorite methods for tracking because it motivates me to work harder so that we can reach the top faster and can you believe I made it using an old picture frame I found at a thrift shop and some chalkboard paint?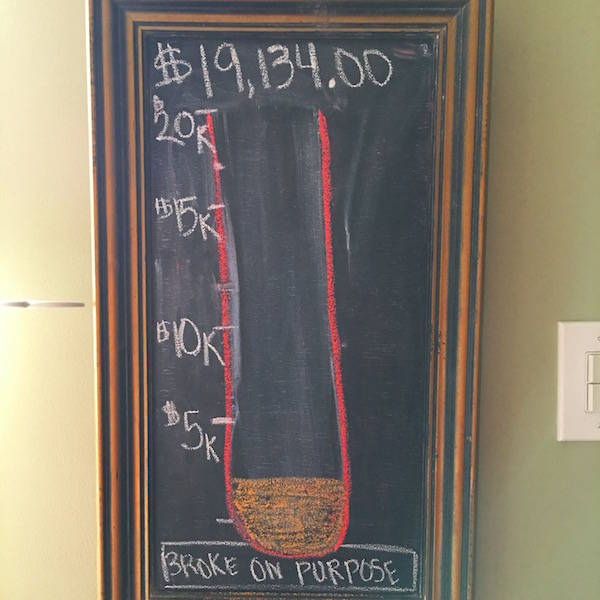 To make our Payoff Thermometer I had a piece of wood cut at Home Depot that would fit inside the frame. I then primed the board with a tinted paint primer and painted it using Rustoleum Chalkboard Paint. There is chalkboard spray paint available but you won't get the same finish. Two coats of the Rustoleum Chalkboard paint was just enough to give me my desired effect.
The last thing I like to use is my planner. Since I work on the side as a freelancer and a lot of my jobs aren't paid immediately I use the planner to track expected payment dates as well as to write down when I make extra payments to our debt. I don't go all out and "pimp" my planner with stickers and other extras, but it helps me stay on track when it comes to forecasting how much we can expect to pay off for the month.
What type of motivational tools do you use in your journey? I'm open to learning about new techniques so share them with me in the comments below.