From the desk of Mr. Broke on Purpose.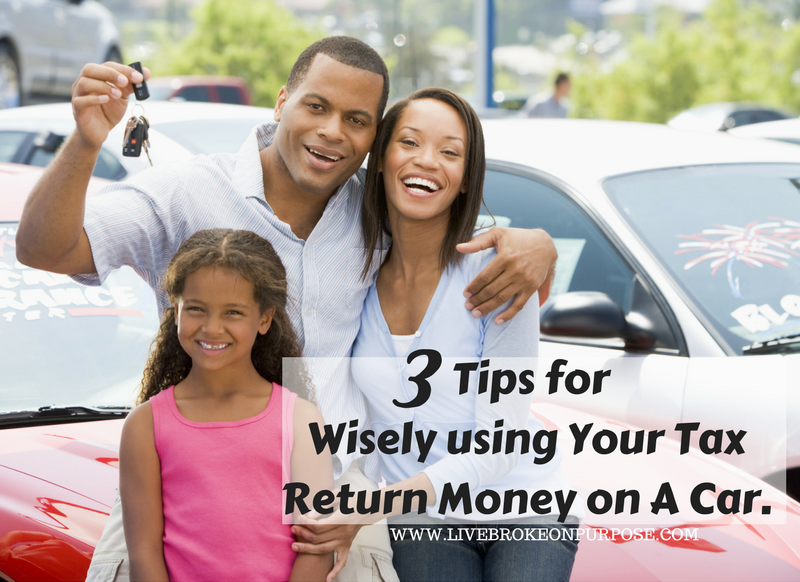 For some people, a new year means a new beginning. And for others, it seems like it's more of the same. For people trying to change something in their life this new year comes with a lot of built up promises to oneself. This time of year is also marked by people receiving their yearly W-2 for income tax refunds. Some people tend to use their refunds to make an extravagant purchase, while others pay off bills or play catch up.
I often see commercials on tv and hear them on the radio urging people to bring in their W-2 and get in a car today. Bad credit, no credit, repossessions, no matter the case, bring in your W-2 and we can get you in a car today. For people that want a new car or are in need of a car, that can be quite tempting. I'd like to share my view regarding other options for transportation.
For almost two years Melody and I have been members of a very exclusive group, #TEAMNOCARPAYMENT. Rapper DEE-1 has made the feeling of having no car note popular with his song "No Car Note." He actually starts off the song sharing how society labels us based on the labels we own.
"Man somebody messaged me on Instagram
Saying they don't listen to my music because
I don't drive a brand new fancy car like a real rapper
Man I'm trying to be smart with my money
And actually I'm in love with my car plus
I ain't got NO car note, ya heard me?"
So my perspective for this post comes for that of a person with no car note and plan on keeping it that way! I'll share with you three points that could change your mind about using you W-2 to buy a new car.
1: Show Your Car Some Love.
If you are in a locked-in a monthly payment or own your car outright, Do the yearly maintenance your vehicle needs or that you may have been putting off because money has been tight. The key is to keep the car running in top shape, especially if you are still paying for it. A tune up and new tires can go a long way. Plus in most states, a yearly inspection is required, so ensure your car will pass the inspection by taking care of those things now while you have the funds and avoid putting them off for later when the money may not be around.
If your car is running well, why not do something that would make you feel good about it. A full interior and exterior detail can make your car look and feel like new. Shampooed seats and floor mats can rejuvenate your entire and make your daily commutes feel great. The thing that draws us tot he car is always that new car smell even hanging an air freshener might make you feel a little more excited about driving an older model car.
If your car is a little older and has some exterior issues, this could also be a great time to get that addressed. Car refinishing including painting could be within reach if you shop around and compare prices. Groupon offers great discounts on car cleaning and painting services.
2: Join Team #TEAMNOCARPAYMENT, or get close to it.
If you are paying a car note every month, you know this is a pain that seems like it will never end. A 60-month agreement ( 5 years), is most common, but I've seen 72 (Melody's last car) and 84-month car loans. Can you imagine paying $300 plus dollars for 84 months? Now that I know the pleasure of not having a car note every month, I don't ever see myself going back.
So the suggestion with this point would use your income tax refund to pay off the remaining balance of your car. If you owe more than you are going to get in return, it would be a good idea to use some of it to pay down a chunk of your balance. If you can knock off one year worth of payments, that's a victory. Not just for the time, you'll save but also for the massive amount of interest you won't have to pay.
3: Buy What You Can Afford
In the situation that you don't have a car or you desperately need to purchase something, this point should speak to you. When buying a car, there are two options, a new car or a used car. There is no pleasure like driving off the lot in a car with less than 100 miles on it and plastic still on the seats. I have never had that pleasure, but Mel can tell you how it feels. She's had two new cars since we have been married, though I take joint responsibility in this Every car I've ever owned has been used; it's not a complaint, it's just the situation. Remember, on average a new car will lose around 20 percent of its value in the 1st year of ownership.
Buying a nice used car can be just as bad. Some people don't think logically when it's time for the purchase. People sign on for a five-year payment for a car that has depreciated from its original value. Before you sign on the dotted line be sure, you do the math to make sure you're not paying more for the car than it's actually worth. My path going forward will be to buy what I can afford in cash. Melody and I have talked about this, and we believe that our future purchases will have to fit into our broke on purpose lifestyle because I can't see myself being a slave to car payments ever again.
For people in the market for a new vehicle, I would suggest that you look around, you'll be surprised at what you can find. Sites like Ebay Motors, Autotrader and even local classified ads all have a lot of hidden gems. A great option for people could be local police and seizure auctions. If you are willing to do the research and have a car checked out by a mechanic these auctions can be a great resource for good cars.
If you have any other great suggestions for how to use your income tax return money on a vehicle share them with us in the comments below.