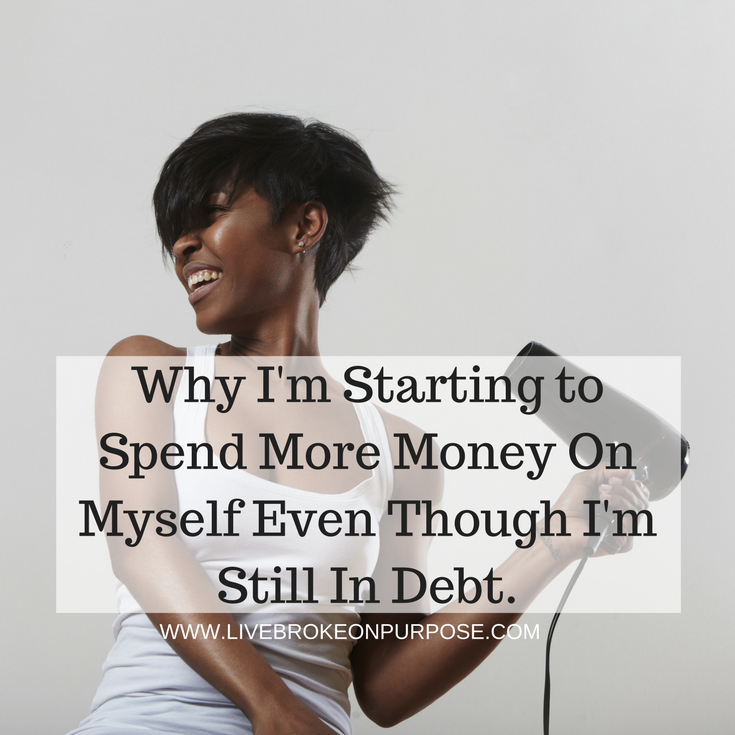 So we've been doing this while Broke on Purpose thang for almost 24 months and for the first time I'm allowing myself to spend a little more money on my self-care.  I used to do the whole false nails thing, but that got to be a little much for me financially, and I type way too much. I think my lab mates were over my clickety-clacking.  As a natural, I can easily do my hair at home, heck I've been doing my hair at home 95% of the time. However, this past September I finally got an appointment with one of the best stylist in the Philadelphia area and after sitting in her chair one time I knew I had to return. I knew that by committing to getting my hair done every two weeks I was going to have to rearrange the way I  budgeted my allowance and cut back on some other things but to me, it was worth it and here's why.
I can't in good conscious tell you that to get out of debt you're going to have to give up EVERYTHING that makes you happy and helps you identify as you. Will doing that help you get out of debt faster, of course, but I can't tell you to do something I can't do myself. In the beginning, I sacrificed a lot, and I mean a whole lot. It helped us build momentum and pay off lots of debt, but I couldn't continue to live like that and keep my sanity.  This is why I created the "Self-Care" Money envelope. Understandably natural hair can be maintained at home, but it doesn't come without hassle. I don't care what anyone says; natural hair is not easier. I have 4b/4c hair, so I can't just do a "wash and go." By going to the salon, I can have someone else deep condition, detangle, twist, and style my hair leaving me free to enjoy the experience, laugh and talk, or catch up on emails and other social media responsibilities.
-It saves me time. Believe it or not, it actually does. It might help that I get my hair done on Tuesday mornings, and I try to be the first appointment of the day, but by having my hair done, I'm in and out in less than two hours. Yesterday I had to wash my hair myself because I somehow scheduled my appointment for the wrong week. Don't get me wrong, it was a treat because I got to use one of my favorite shampoos from SheaMoisture (find it here), but after shampooing, deep conditioning, styling, then sitting under the dryer, I was four hours in and all I could think about was how much I could've gotten done in that four hours.
– Having my hair done is a form of self-care. It allows me to relax and breath and think about things. This to me is more important than anything. I walk out of the at salon feeling better than I felt when I walked in. For me, it's a form a therapy, and it allows me to get back to me.
This is why I like to remind people that sacrificing something to start paying off your debt it doesn't mean that you have to give that thing up forever. As you pay things off, you'll start to notice that even though you're income isn't increasing you're giving yourself a raise because that money is no longer going towards things that don't benefit you. It's all about making sure that you have the money in your written budget to make sure that you can pay for whatever type of self-care you'd like to treat yourself.
Have you found that paying off your debt allows you to get some of the old life that you had to give up back? I'd love to hear about it.