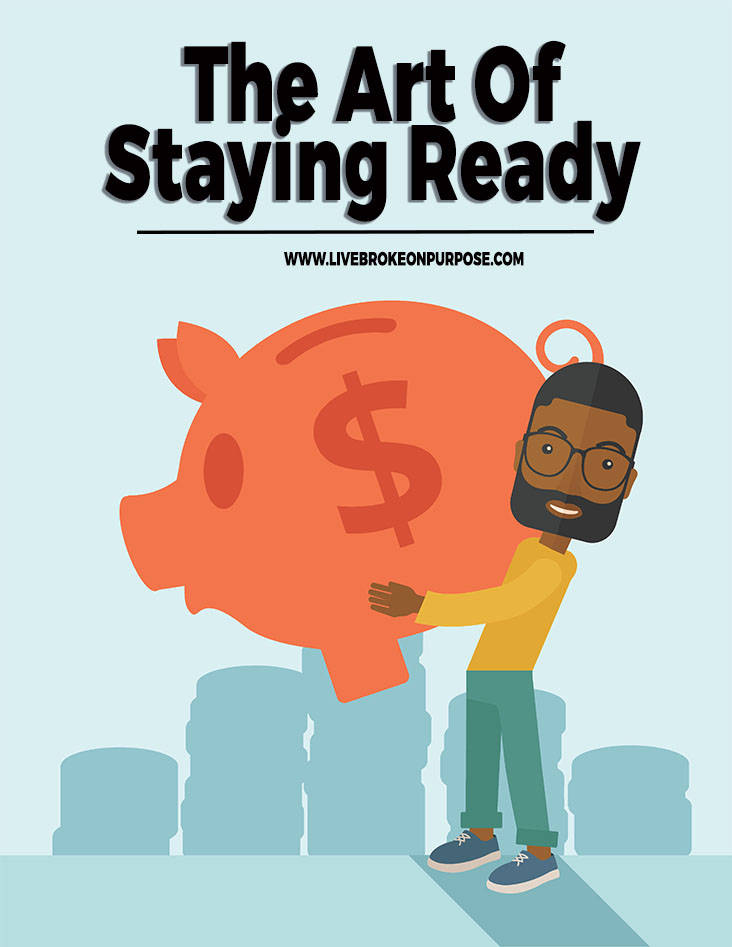 From the Desk of Mr. Broke on Purpose
These last few months of the year have different meanings for a lot of people.For outdoors people It marks the transition from summer to fall with the changing in color of leaves and the crisp air. For the sports fans, it's when all sports are in full action! You have NFL in midseason form, the start of the NBA and NHL seasons and the conclusion of the MLB season. For social people, it serves as a marker that the holiday season is fast approaching. Some will be pulling out old recipes and decorations for the seasons. There will be party after party starting with Halloween and ending with New Years. And still, for others it's just another month filled with bills and responsibilities.
For us this past month proceeded like any other, except in October month we were faced with several unforeseen expenses. Unforeseen expenses are serious budget killers and are often what deter people from sticking to their financial plan for the month, especially if they're just getting started and looking for ways to build momentum quick. It's easy to want to throw up your hands and say forget it because it seems like if it's not one thing, it's another. While we felt the sting of these unexpected expenses we were still able to stay on budget through our emergency fund and extra savings accounts. Looking back three years ago, we would have been scrambling trying to figure out what to do.
via GIPHY
Unexpected Expense 1:
So as monthly bills were coming in, we noticed that our electricity bill jumped drastically. We did some research and realized that our energy provider raised previously low rates. These rate increases caused an almost $200 increase in our budgeted energy expense. So to remedy the situation, we changed our energy plan but still ended up paying a $380 electric bill last month when our bills are normally only $175.
Unexpected Expense 2:
We received a notice from our mortgage provider that our property taxes were increasing and the amount we had in our escrow account was not enough to cover that increase. We were told that we had two options.
Option 1: Pay $633 up front and then an additional $100 every month starting in December so that our escrow would be fully funded
Option 2: Don't pay the difference and our mortgage payment ( which includes taxes and insurance also) would increase by $150 per month.
Either one is a tough situation because in each scenario you have to spend money that you hadn't planned on spending. Melody and I decided that this would be a good time to draw from our Emergency Fund to pay the $633 up front. We figured we could replace the funds over the next couple of months or with any bonuses that we may get for the Holidays.
Unexpected Expense 3:
During a routine trip to have the oil changed, we got some unwanted news. Apparently, there was a nail embedded in one of the tires. Having the tire repaired was not an option because of the location of the nail. We were informed that the tire would cost $168 to replace. Melody has mentioned previously that we have a savings account set aside just or car repairs. We started this because in 2015 we were hit with an almost $800 car repair bill and we weren't prepared to cover it. Having money put into a savings account each month strictly for the car gives us that peace of mind.
Honestly, car repairs shouldn't be thought of as unexpected expenses. Cars are depreciating assets and so it's common that with them they're are going to be car repairs.
Being faced with anyone of these situations is awful, but being faced with all three really sucks! As I mentioned before we definitely felt the sting of each of these, but we've worked to have the tools to deal with the situation. When these bills came up, we were not scrambling and panicked saying " where are we going to get the money for this?" . We were the opposite. We were calm, albeit a little upset, and confident that we had things under control. Our response was "Okay, how do you want to go about handling these."
These three situations truly removed any doubt I could have still had regarding our Broke On Purpose plan. We were able to calmly talk about each situation and determine the best course of action. We decided that using some of our emergency funds was justified to take care of immediate bills. The budget or the upcoming months will be adjusted to replace the money in the emergency fund. We also adjusted the monthly budget for the increase in our mortgage payment accordingly.
You truly won't know how strong your foundation is until the earth starts to shake, and when all the smoke clears your house is still standing. There is no better feeling than to see that all the things you've done previously were right. You might not walk around praying for bad situations to be thrown at you, but you there is a certain level of reassurance knowing you can handle them.