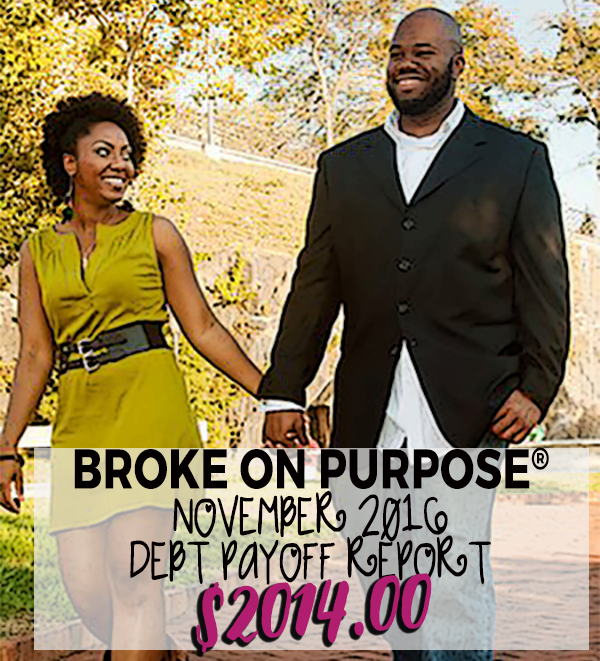 Okay, so somehow the end up of the month snuck up on me. One minute I was eating leftover Turkey Pot Pie and the next I realize that I'm late on getting up on end of the month debt pay off report. It's as if time doesn't exist and one day just melds into the next.
t
I know in the last payoff report I was all like "we're going to work like crazy to bring in extra income," and that was my initial goal going into November, but the more I thought about it, the more I realized I need to slow down. For the first time in a long time, I turned down work and didn't feel a tremendous sense of regret after doing so. Before, I felt like I had to take almost every offer for work that came my way because all I could think was "I can throw that money at the debt." Once we finally paid off the last of the student loan interest that we transferred to my credit card, my thought process changed.
Seriously, I just wanted to chill.
I'm not saying that I gave up on Broke on Purpose completely. We still worked and stayed within our budget, and I still worked my side hustles, but I worked my side hustles on my terms and not with the foreboding feeling that this debt is hanging over our heads and if I don't work these extra jobs it's never going to get paid. This month I turned down offers to work with networks that I absolutely LOATHED, but only did because the money was good. I rested. I laid on my couch, and I read a Vampire Series that was horrible, but just couldn't put down because I felt I was too invested in the characters and their fate. I did something that I've wanted to do ever since I started Broke on Purpose.
I lived my life with options.
Options are something we take for granted until we no longer have them. When you have debt, you don't have options. You're limited by your debt. Your debt doesn't allow you to choose the most expensive car with the upgrades, or to book the room with the balcony on the cruise. You're limited to what you can afford, and when your money is constantly going out to bills you can't afford much.  Before I couldn't afford to relax on the couch. I couldn't afford to say no to work, and while I really still can't, I feel like we've gotten to a point where I can be a little more picky about who I'm giving my time. Even if only for a little while.
We also used some of the extra money this month to go ahead and  purchase a few Christmas gifts. We've cut our Christmas Budget significantly from last year because we're working towards a life where we strive to give gifts (not just tangible) throughout the year and not only on socially mandated holidays.
So let's get into the numbers, shall we?
NOVEMBER 2016 DEBT PAY OFF BREAKDOWN
Balance Transfer Starting Balance: $17,674.00
November Starting Balance: $1212.00 (Paid Off November 7th)
Next Student Loan: $19,175.59
New Balance:  $18,373.25
Amount towards debt: $2014.00
Amount paid since living Broke on Purpose (20 months): $64,085.00
With all that said I feel better about December. I don't feel as stressed or anxious. This weekend Marcus and I plan to sit down and write out our 2017 goals. We're going to do a set of goals for the household and then work on our personal goals. You guys know I'm a huge believer in WRITING THE VISION. We're a third of the way to the finish line and now it's time to lay out the blueprint and directions that will help us get to the half way point.
Visit the Broke on Purpose Facebook Page
Like Broke on Purpose on Instagram
Grab the Broke on Purpose Ebook
Purchase a Set of Broke on Purpose Money Envelopes
New* Create your Own Broke On Purpose Money Envelope Bundle